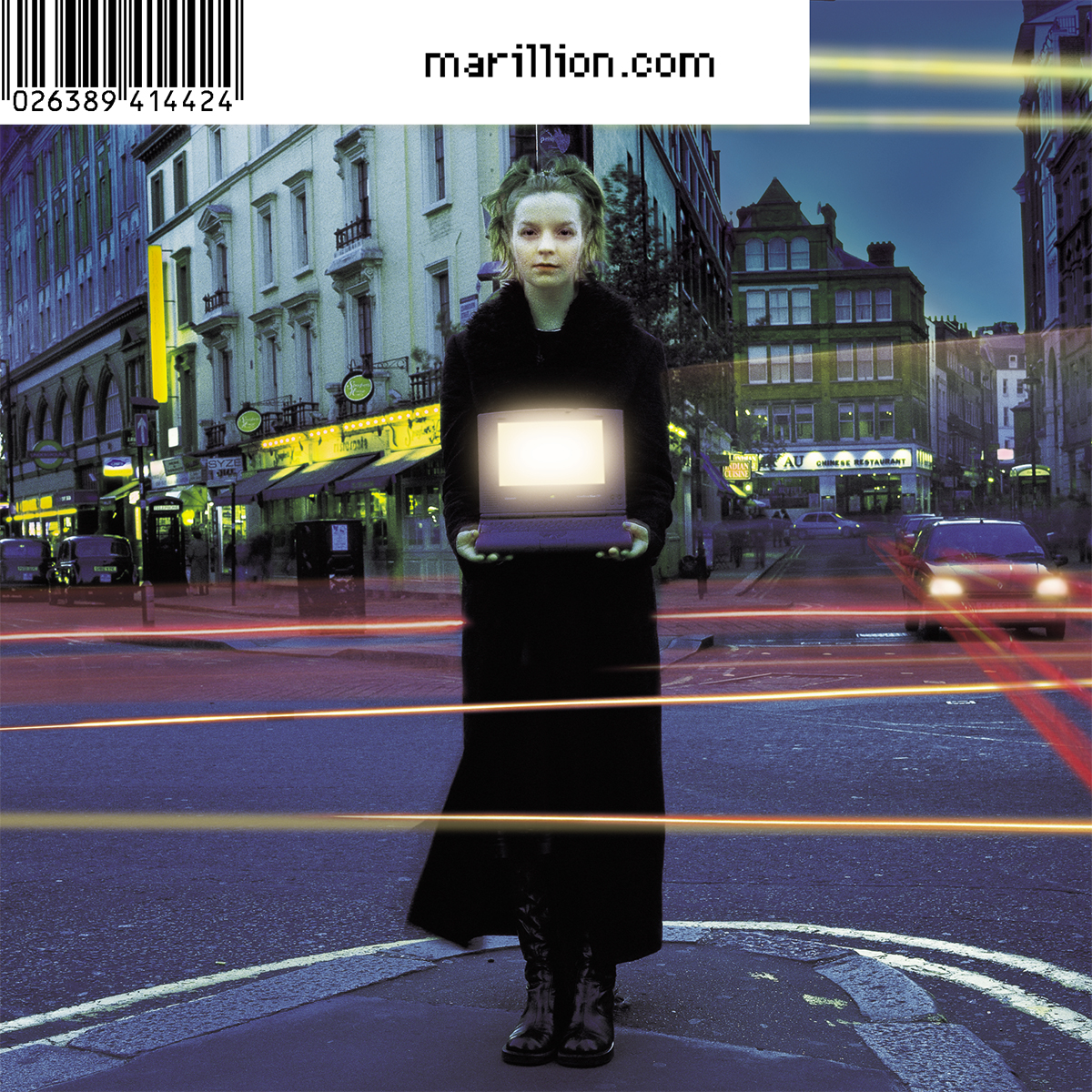 Greetings, Glancers! We're almost into the 2000s with Marillion, but for now we're closing out the 90s with Marillion.com. A few bands were adopting this new fangled technology and internet speak towards the end of the century – The Gathering released If_Then_Else for example. I always get a little wary when I see an album or a movie with something like '.com' in the title. I suppose so many of those titles seem dated now, and seemed dated then, possibly written by people who were afraid of or completely misunderstood the technology. This has nothing to do with anything, but because the only thing I know about the album so far is that Mr Biffo thinks it's Marillion's worst album, I had to write something to introduce the post.
Wikipedia tells me the album is over an hour long and only features 9 songs. On one hand that makes me think 'Prog', but on the other hand if it's as shit as Paul says then this could be a struggle. Of course it'll turn out to be one of my favourite Marillion albums. Incidentally, I did get a shout out in their recent Postbag episode – welcome to any new readers and feel free to add any comments or thoughts here. I should point out that I wouldn't classify myself as a musician, as much as I'd love to say that I am; I've certainly played music and I'm usually fairly good at picking up a new instrument and being able to fiddle something approaching music from it, but to call myself a musician would feel like I was mocking the millions of  genuine musicians out there. If I'd stuck at it as a teenager and made any sort of money from it, then sure. It's like this blog – I love writing, but the fact that I do it in a stream of consciousness way and don't make a single penny from any of it means I wouldn't call myself a writer. Maybe it's mere semantics and labels – I like writing and I like playing music – that's not enough to tell people I'm a writer or a musician.  When I write about music I tend to not go into a lot of detail on the technicalities because (A) I'd get it wrong and (B) it would be boring for me and my assumed audience. I approach writing about music from an emotional perspective, but it can be handy to have had a taste of musical theory, perspective, and knowledge when I want to describe a particular feeling and how the music works to elicit said feeling. I'd love to give music another shot but, you know, not enough time, not enough will. Ultimately, not enough need.
Marillion.com then. What about the artwork? There's a giant barcode – is that supposed to be there? I assume so. It screams PRODUCT FOR PURCHASE and feels a little Radiohead. There's a girl dressed in black holding… is that a monitor? A laptop? Lets just call it a blazing screen – it's shining, blindingly so, but it's transmitting nothing. Is that going to be a theme on the album? She's standing on a busy junction, I assume it's some famous or semi-famous road, and lights and cars are buzzing by in neon blurs – Radiohead again. It's an eye-catching, slightly creepy image, but I'm not sure it's the sort of thing I would glance at twice in a Record store (if such places still exist). It emits that End Of The Century paranoia as summed up perfectly in OK Computer, but will such themes also be found within the songs? Lets find out.
In the huge gap between the previous paragraph and this one, I have listened to the album a few times. I'll get into the reasons as we go through each track, but I have to say that I have enjoyed the album more than This Strange Engine and Radiation. I'm a tad surprised by what Paul has said about it so far, but at the time of writing the guys haven't released their Marillion.com episode so I'll have to hold out for Paul's reasons. At a guess I would say that maybe it's because it feels a little by the numbers on the surface. It doesn't scream 'I'm a Marillion album' – rather it sort of shrugs and whispers 'psst, do you like softish rock music? Here… here's some softish rock music, please enjoy'. I think it's an okay album, but is it an okay Marillion album? There are a few more traditionally structured emotive rock songs (which Paul has said he doesn't find as interesting as when they don't follow that approach), I found it to have more accessibility than the last few album, and there are even a few re-used melodies. I can see these as reasons why a longstanding Marillion fan may not enjoy the album, but I found that even the more commercial and simple songs had enough twists for me to punt them into a higher tier than maybe where Paul would place them. Remember, I liked Radiation and This Strange Engine – they weren't amazing but each featured a couple of songs I can slap onto a playlist. Marillion.com does too. Lets go track by track , shall we?
A Legacy is such an effective, creepy opener for the album. It goes back to that old school soft opening which Marillion and other bands have opened with in the past. It's a cliché to call out Philip Glass any time you hear a fragile piano in music these days, but that brief introduction is quite reminiscent of the composer's minimalist ways. I just wish they'd kept that tone instead of going rock, because as soon as the guitars and organs join in, the whole thing falls apart significantly. The rock verses aren't interesting in any way, but the song does at least retain a disjointed structure throughout – it's the leaping about from one thing to another which kept this just above average for me because the rock stuff doesn't do much for me and it's not the best vocal performance – I can only assume H was deliberately aiming for an atonal quality in some of the vocal lines. The acoustic, quiet ending improves matters a little – the opening and closing minutes are strong, but the ham and cheese sandwiched in between in fairly standard fare, although I did enjoy the subtle twanging guitar part around the two minute mark which reminded me of Rockstar's Bully soundtrack.
If I didn't know a single thing about the band and the relationship issues H had been going through, I might have read this lyrics as being the voice of some ghost or demon which had been attached to a person and had either been exorcised or decided to move on to its next victim. Coupled with the creepy vibe which the music produces and ambiguous lyrics like 'I will leave you things that might not help you/things that might' it's easy to take this in as sinister a fashion as you would like to. Having heard enough episodes of the podcast by now I understand that this is a more realistic break up song, coated in bitterness. Blame is cast about in all directions and anger is the overriding emotion. It's not 'when I leave you I'll be sad to leave you', but 'when I leave you I will hate to leave you'. Beyond the accumulated blame and guilt and hate, none of the individual lyrics struck me as overtly powerful but their repetition gives the impression of someone trapped within and dwelling on these feelings.
Deserve is a stronger straightforward Rock song than The Legacy. Maybe it's because the song has an immediacy and urgency to it. I wish it was a tad faster – that heightened tempo would only increase the urgency and emotion. To test this out, I listened to it at 1.25 speed, and it almost works. Maybe 1.15x speed would do it? It almost feels like this song should have had a different vocalist – I don't know if the other guys in the band sing, but I kept feeling like the vocals needed to be less clean, less reserved, and should have had some gravel or anguish.
The song is bookended by a bit of saxophone – you may have worked it out by now, but saxophone in music instantly makes me think of porn. When it's not making me think of porn, it reminds me of Police Academy. This saxophone in particular is pure Police Academy. I also got a touch of REM in the melodies – I'm not a huge REM fan, but the verse melody in Deserve which reminded me of REM follows a melodic style I'm partial to. Plus the lyrics have that not too veiled cynicism which REM are sometimes known for. For the verse melody though – I know I mentioned not being a musician but I'll go on a related tangent – most songs which play off this rough Am G Em structure (when played at a fast tempo) seem to allow for an emotive attack and energy in the vocal melodies which always gives me the feels, as they say. Some of the first songs I ever wrote  followed these three chords because I knew I that by using those I could craft a vocal melody which I would enjoy listening to myself.
Lyrically I couldn't help but compare it with Radiohead's Just. 'You get what you deserve' is similar enough to 'you do it to yourself' although the songs are thematically different. I guess the sentiment is universal enough that this comparison is shaky at best, but we know the band and H liked Radiohead so I'm sure there's some crossover. This sadly feels like a very timely lyric – our jealousy about the rich young pretty things we see plastered everywhere, but in many cases they only exist because we allow them to as a society. I've no idea when Big Brother, X Factor and all of that stuff started, but since then we've had a tonne of clones and all of those Housewives and Essex type shows. It's this type of show or celeb that I felt was being attacked in this song – but I don't know if it's suggesting that we get this tripe because we have regressed as a whole society rather than saying that a certain percentage of the population enjoys them. It's of course not a new feeling – tabloids have existed for as long as media has, and envy and greed much longer than that. Like the previous song, it maybe matters less what is being said that they feelings being pushed, and like the previous song those are mostly negative.
Go may be the best song on the album. I haven't decided yet if it's my favourite, but it seems like the best. However, it also seems like a song that is reaching to be more special than it actually is. I felt a sense of over-achieving and grasping to be better but not quite having the skill to get there. Not every song needs to be the best song ever written and not every song needs to be the centrepiece, but it's good to try and this was a valiant effort. It's almost as if the song was designed to be too self-confident and airy that this effort became too transparent and rather than sounding epic and effortless it instead sounds like they're trying to be epic and effortless. Does any of that make sense? No? Good.
That nonsense aside, there's a lot to love – the extended coda isn't quite Hey Jude, but it's probably another ending set up for jubilant audience interaction, I enjoyed the spacey Oh Superman wah wah wah opening, and the guitars are especially flickering, shimmering, and memorable. The keyboards and synth work may be the standout in this song, and is among the highlights of the album as they're so atmospherically crafted. H's vocals are perfectly suited to the breezy yet melancholic approach, and the bending, mirage like solo is one of the more interesting solos I can remember from Rothery. I do think that there should have been more energy in the final couple of minutes after that solo finishes – the solo is accompanied by an increased potency in the drums and I expected that energy to continue and expand through the vocals and until the end of the song. Instead H comes in after the solo in the same displaced airy tone as the start of the song. We do pick up for the ending, but the momentum has been lost. Ignoring the feelings and assumptions I had about what the band had in mind for the song, it's supremely well put together and produced, and comes across as one of their most dense and musically mature songs.
I'm not too clear on the lyrics for Go! I guess that the exclamation mark is for emphasis, but to the writer not the reader. If it's a personal song then that piece of punctuation is almost like an in-joke telling them to go, get out, run – if you're going to make a song with all of these feelings but then not act upon those feelings, why bother, so look at the exclamation mark and remember, you dick! But what is the song telling us? Is it simply telling us, or the writer, or whoever, to escape? It only takes a second, no effort, just go? All the crap… just go. I suppose that's what it's saying, but I've always read the phrase 'turn your life upside down' as a negative statement. I suppose if you feel your life is already upside down, then flipping it again would correct it.
Handclaps in music are a big no no for me. Rich has handclapping. It also suffers a little from feeling like a twin to Deserve. It's a strange song because on one hand it's similar enough in pace and tone in places, but elsewhere it's like some madcap piss-take of The Beatles and Austin Powers. I like the chorus – it's unashamedly poppy and infectious, while the verses have synth sounds straight out of Look Around You and some strange vocals wavering which makes it sound like either H was laughing when he was recording, or was extremely nervous, or had swallowed a bee. For what is basically a bit of fun, it's an almost 6 minute long song, its length extended by a couple of guitar solo and instrumental breakdowns. I'm not convinced that the final two minutes add much to the song and detract a little from what could have been a sneaky cult-type sleeper hit single. It's quirky and it's disjointed in a similar vein to A Legacy, and while I appreciate it as a throwaway pop rock song I think I would have enjoyed it more if some of the quirks had been taken out – straighter vocals, no handclaps, more prominent guitars in the verses.
Rich comes close to my own preferred style of lyric – individual statements which convey wider themes when tied together. You can take any single line from the first verse and it's self-contained. You can take a variety of meanings from one of those lines, but taken together something more holistic comes across. In theory anyway, as Rich isn't concerned with letting me in on its secrets. There are parts alluding to failure and to wealth and achievement. The song is, of course, titled Rich. Is it a positive song about self-confidence and not needing wealth to be rich? Is it imbued with a sense of self-improvement and a spirit of never say die? Given how bitter the previous songs have been I'd be more inclined to say there's something more to the lyric, something more along the lines of 'you'll never be rich because the system's set up to screw you, and why bother anyway because every success is really a failure'. But I don't see enough in the lyrics to point me down that road and the chorus reads as defiant – 'no' to all the bad things.
In what is a recurring theme of the album (at least in my mind) the idea of twins makes a return, with Enlightened acting as a partner to Go. It might be more accurate though to say that it's the twin of Estonia. That central vocal melody, we've definitely heard that before, right? It's the part from Estonia which I said was very similar to Iris by the Goo Goo Dolls. While I'm at it, the intro is pure Rooster by Alice In Chains. Go on, click the link and tell me I'm wrong.
The verses are too restrained and uneventful to make an impact, which is a shame because I did enjoy the intro and chorus. It's another example of the frustration I felt with this album – the songs have excellent moments, but the final product is dragged down by more dubious musical and production choices. What could have been a highlight instead feels like your typical mid-album track. If these had a better verse, and if the final 30 seconds or so could be shaved off  I would name this as one of the better songs on the album. As it stands, the most interesting thing I could say about the music was how much it reminded me of other songs.
I found the song to be quite poor lyrically. Like the vague, airy, and unadventurous music, the words neither tell me much, paint any pictures, or make me care. I'm tempted to say it's some throwaway drug haze song – there's enough evidence in both the lyrics and the music to support this from the slurred laidback music to the song's title itself. As such I don't have much more to add on the lyrics – lightning is repeated a few times with the odd related play on words to spruce things up and I suppose as a whole if the song is trying to evoke some sort of either relaxed or stoned atmosphere then it succeeds. I'm not convinced that's the atmosphere it's going for.
And with that downer, we finally get around to part one of the BYAMPOD Marillion.com breakdown. We begin with a chat about what was happening in 1999 – Sanja moved to the UK and I was in the midst of A-Level preparations. Fish and H shared a stage with the pair tackling Lavender and Hope For The Future. It was a different time. A different and very strange time. Paul heard the title when it was announced and had the same misgivings I had regarding sounding cool but dated. Their intentions were fine, but also geared towards promoting their online store? They did a lot of interesting merch and interactive stuff with fans which is always pretty cool – many of my favourite bands don't bother with this, and by and large if you don't have this connection with your fans these days you're not going to get very far. Marillion made the right decision at the right time.
The guys talk a bit about the mixing and production process which the band has followed, here and on other albums. Both are integral to an album and a song's quality and impact – it's always interesting to follow the lifecycle of a song from its inception to a demo to the end quality. Paul sees this as one of the major issues with the album – the right people were not always working on the right song, hence the unfortunate results. Production for me, as vital as it is, is one of those things for me which I tend to put lower down my list of priority than many people would. I don't need everything to be crisp and pristine, and I'll overlook a murky mix or shoddy production values if the core of the song is good. Having both at top level is best. Paul concludes by saying, while he has many negative things to say about the album and some of his experience of it, it's still an album by his favourite band. In other words, I was right when I said I enjoyed it and was surprised by his previous comments. Ha.
A Legacy – Paul used to despise it, now quite likes it and would like to see it live. We learn that it's a Helmer lyric which deliberately jumps between styles and genres musically and lyrically. The Beach Boys harmony bit is the Bully bit. H was knowingly trying to sound like The Beatles and Grunge and a hundred other things. Disjointed is right. Paul calls out his displeasure at the band constantly and knowingly writing songs trying to sound like someone else – and admitting to it. While Marillion were trying to sound like others, those others had already moved on. The Manics do this all the time now – 'our new album is The Clash meets ABBA' – but we're well used to such callouts and comparisons with the Manics by now. Paul says the song doesn't suit H's voice – oddly enough, this is something I called out too but I don't know if it was on this song or something else. I even mentioned whether or not someone else in the band should have sung instead. Could be on the second half. Some people just aren't suited to certain types of song. For anyone wondering – I usually write my thoughts on the music of every song first, then split my post into a Part 1 and Part 2, before going back and adding my thoughts on the lyrics. Then finally I listen to the podcast and add these comments you're reading now. That's some quality blogging insight for you.
The guys think it's a fitting continuation of the relationship strife as showcased on the previous album. Paul sees it as less about infidelity and more about toxic relationships in general. We move straight into Record Breakers! Or Deserve. Record Breakers…. while I did watch it, like Blue Peter it was only something I watched because I had to and sat moaning that it wasn't a cartoon or didn't feature any gunge. Is that how you spell gunge? Tough, gunge it is. Paul hates the lyric and compares it to some of the more Feminist leaning songs released at the time. Saxophone always sounds dated – it's just an instrument trapped in the 80s. I did watch Animal Hospital, but you know, Rolf. I just checked back at my comments and saw that this was the song I felt could have had a different vocalist. This is what I anticipated when I heard that Paul didn't like the album – Paul doesn't want Marillion to play this type of Rock music. I think it's fine, but I appreciate it's not what the Marillion hardcore want.
Paul says he doesn't like the vocal either. H's quote is… hit and miss. Do we get what we deserve? No, just a whole bunch of stuff happens and then we die. The rich and pretty are an easy target, and that's fine, but extending that outwards and inwards requires a little more tact and skill. Sanja focuses on the inward looking side of things – H realising his own flaws and writing about them but doesn't have the honesty to say 'I' instead of 'we'. The 'get what we deserve' type of thinking, if we place it on a philosophical level (and we should because that is apparently what H has done) is one which has been around since the dawn of time and can be taken in a variety of ways – the Neitzche school of 'what doesn't kill you makes you stronger' to the more 'well that's what the great God of Nature has decreed, so deal with it' Gibran style. None of these have ever sat well with me – much like any philosophy which espouses a universal truth. See, I read sometimes too! Anyway, Paul says 'it's horrible and shit'.
Oh, they're ending this episode with Go! That makes a mess of my formatting above, given that I included another two songs. Of course I could simply cut and paste those songs from this post into the next and no-one would be any the wiser, but no! I am on a roll and I refuse. We'll just have to cover the podcast comments for those songs in the next post. Does this mean the worst Marillion album is going to be a three-parter for Paul and Sanja?
Sanja says Go! is like a balm after Deserve while Paul tells us that the recording and arranging was a pain. It's one of Sanja's favourites and it took Paul a while to appreciate it – though that may have been down to his overall experience of the album. It sounds like the lyrics are in fact supposed to be positive and evoking the sense of freedom through change or escape. I didn't always get that optimism, but that could be down to the aftertaste of the previous songs. It's not the first time H has used this theme, and it sounds like he comes back to it in the future. Sanja goes a bit Australian while we wait for a flaming galah to pop out, whatever that is. As expected, this has turned into a bit of a lighters up song. I'm not sure what finger lights are, but I am receiving visions of middle aged men wearing fluorescent Witch finger nails. And unfortunately, that image is where we must leave it (not before Rolf comes burning into my brain with his witch finger up a hamster).
Let us know what you think of Marillion.com in the comments, and as always go listen to BYAMPOD and follow the guys on Twitter, Facebook, Bebo…