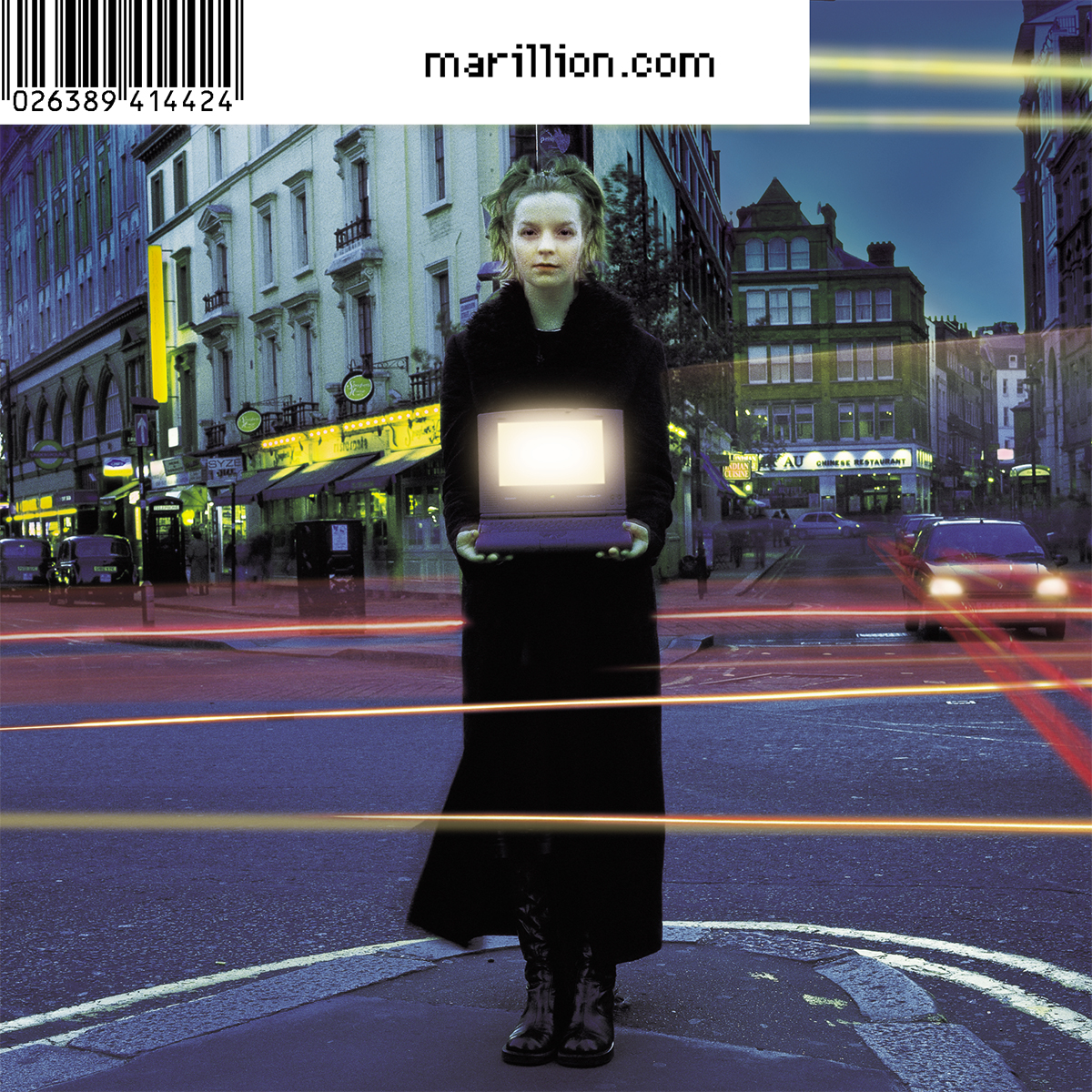 Greetings, Glancers! We're back with the second half of an album I've gone back and forth on quite a bit. My first listens were quite positive – maybe skewed slightly because I was expecting it to be a pile of balls – then I began picking up on niggling parts which pissed me off, and then I came back around again and see it as your good, old fashioned, somegoodsomebad album.
The wonderfully titled Built In Bastard Radar is another tale of two bits. Possibly more than two bits. One bit is the spoken intro – in my experience spoken intros can fuck off and this one is no different. The other bit is the heavier guitar riff, not the twiddly George Harrison stuff but the crunchy Blues part – that's Stranger In A Strange Land by Iron Maiden, right, the guitar riff just after Bruce sings 'no brave no world'. I'm not attempting to make groundless accusations – I just happen to like Stranger and found a mini comparison. It continues; the lead vocal melody feels like it's cribbed from If I Needed Someone by The Beatles. There's another melodic comparison related to the vocals but my brain is overloaded at the moment by misremembering other songs that I can't say what it is. 
It's another mid-tempo rocker with enough twists and turns to make it stand out from the crowd the laidback summery verses, the crunchy blues parts with organ accompaniment, the SOS radio static chorus. Each verse rotation offers something different from the one before – a more pressing beat on the toms and snares, some keyboard twiddling – and the musical interludes in between are not repeated. It would be simple to call this (and many other songs on the album) straightforward rock songs, and that would be accurate, but they're embossed by a talented and experienced group of musicians who are capable of better just nudging them by smithereens above the usual stock.
I couldn't tell if the lyrics were taking the (unintended?) stance of unwarranted male guardianship and bloke morals – the old classic 'why would go be with someone who's not good enough for you when, you know, maybe I'm good enough for you'. If I feel it, that's not enough to suggest it's there, but I do feel it. The song begins with a great opening verse – no idea what he's going on about but 'best of there the Angel said/as daylight burst behind his head' sounds good. A moral quandary. We also have 'baby you can't lose it/you'd be mad to choose it' which is roughly the level of lyrics by 8 year old daughter is writing at the moment. I can't criticize (much) as every so often your song simply calls for a line like that and nothing else seems to fit. This is a tough lyric to… well 'justify' isn't the correct word, but it leaves a sour note given some of the crap which goes on in the world when people takes these feelings too far. Lets be honest, as a man we've all had these feelings… maybe when we're sixteen. Suck it up, move on. I'd be very surprised if this one gets a Live airing at all, as it's a very dated and misguided lyric even by 1999.
Before we get to the closing two 10 minute plus songs, we have a rather sweet and defiant love song. Tumble Down The Years is a contender for my favourite song on the album and showcases what several of the other songs could have been had they been run past an Editor another time or two. There isn't an ounce of fat on this one – not an ounce of Prog either – but it does exactly what it needs to; it isn't showy, it doesn't feel artificially extended or designed purely within the studio. It's a song you could play solo and it would retain most of its quality. There's a lot to love, for me at least. I love its simplicity and purity, and I love the lead guitar tone – clean without an irritating twang. Sure it feels incredibly cheesy, but I can look past that if the intent and sentiment is honest. It's not the first time the band have written something which sounds like it could be the intro music to a teen drama, and it isn't the first time they've written something which feels like it could be a Wedding song. Assuming the fan base isn't put off by its earnest simplicity or cheesy whiff, I'd guess this is a favourite from the album.
As lovely as this song is, the bitter aftertaste left by the previous song's lyrics plays a part here. Which is unfortunate, as this is so lovely. To force myself past those feelings, why not call out another tenuous Alice In Chains link as H here sings 'Damn the river' which is the name of an Alice In Chains song taken from the same album as their song Rooster which I referenced in part one. Is 'damn the river' a popular saying? I hadn't heard it until I heard the AIC song. The whole lyric, while no individual line leaps out, is pure and wholesome and snuggly. Naturally, there's probably some real life horror story behind the lyrics and it'll make the song completely depressing.
I was fully expecting the final two tracks to be the best songs here, purely based on the fact that they are long and that the longer songs on previous releases had been standouts. But. BUT. Neither of them are very good. For me, neither Interior Lulu or House are memorable or justified in their length. They're just not very exciting and pull down the whole album. Interior Lulu begins promisingly enough with it's restrained tribal beats and experimental sounds. But there's no emotion to found, the melodies are too one-note and monotonous, and for four minutes the song goes nowhere, drifting in this space of producing useless sounds. There's a two minute freak out in the middle which…. fine, I guess, but it's the sort of stuff Zappa and co were doing in the 60s.
Post-freak out we get a different series of verses and music, but the downcast tone of the first four minutes is still present. The vocals and melodies are more interesting and you can tell H is trying to express… something… by the way he attacks the lyrics. The next few moments are peppered with better moments – the switch to acoustics, good guitar solo, crashing cymbals – somewhere amidst the gloom a better, shorter song is poling its head out trying to not be smacked over the head by the pressure of band members thinking they need to go bigger and longer. Cut out most of the opening quarter of the song, rejig the middle, and leave the last few minutes as an instrumental (because WTF are you at with the vocals, H?), and you'd have a stronger 7 minute ending track.
I don't know what Paul and Sanja make of this and the next song, whether they will feel they are the saving graces of the album or failed attempts at recapturing former Prog glory. Or somewhere in between. The fanbase too – are these favourites? At this point the most interesting thing about the song is the name, and perhaps the lyrics will shed some light on who or what an Interior Lulu is. Lulu liked to shout…. is it about screaming on the inside? I had to Google Louise Brooks, and of course I remembered her name, some of her history. These verses do vividly conjure an image of this woman, her ruses, needs, and urges. It's not a pleasant picture, but at least it's poetic. A life of excess and carnage. If I were being picky (and I am) I would say it's a little dated by 'virtual pages' and even 'e-mails'. The 'use the anger' verse sounds like it could be just as much about H than whoever this character is. Or is the character H? I'm aware this is all getting very Line Of Duty, just as I'm aware how many infinitives I've split during this post.
I don't know how all the tech stuff fits with the life and character of this woman. 'Microsoft and tears' feels like it's just an excuse to fit another tech word into the song. The final verses at least hint that this person has spent (wasted) a significant portion of her life online, disconnected from reality and emotion. But what forced her there? What's the consequence? No doubt Paul will have an H spiel prepared so I'll wait for that.
House is a dribbling, monotonous end to the album. I've never been convinced that having two long songs at the end of an album is a good idea. It's fine if the whole album features epics, and even better if those epics are actually good, but when you're already tired and when the first long track wasn't that great the last thing I want is something even worse. While there may be a decent song shrouded by mistakes in Interior Lulu, I'm not sure the same can be said for House. I'm all for looking at it but not seeing it, but I'd rather not be hearing it. Interior Lulu had the good sense to blend different elements across its 15 minutes, but House slaps down a looping warble (which, while dull, is fine is small bursts) and for ten minutes that's mostly what we get. The light of the chorus is all too brief. Nothing the piano or brass or guitars or vocals do really detract from the monotony. From what I could piece together from the lyrics, I'm guessing that's the point. Divorce. The dull ache of ending. The want for the endless to end. Holding on to memories and resentment in equal measure. It's not a nice thing to go through (I imagine), and listening to it is fairly boring too. If I have some positives – good production, the various sections swell and blend well into each other, and a lot of the tinkling and synth strong type stuff is fine. More sax parps…. everyone plays their part well… I don't mind long songs and long prog, but I do have a lower tolerance when it feels meandering and artificially stretched. I bet this is a fan favourite – don't hurt me.
I think I could tolerate this as a five minute song. There's no justification in most of the second half of the song – there's letting music simmer and sit, and there's pressing and holding a single note for five minutes. I found the second half of the song more like the latter. I am keen to get into the lyrics though; from what I could pick up they seemed pained, and if there's anything I enjoy reading about, it's the suffering of others. Especially if I can then use it to make fun of them after they make me sit through ten minutes of crap.
It's another divorce/split song. The silence of a house when you're the only one in it, after good noise and bad, half the house is gone, eyes staring out, hiding inside. It's a good lyric and it deserves better music. The lyrics do accentuate the sense of dull, restless, futile struggle and continuation which the music goes overboard on – the struggle of those at the end of a relationship and the continuation when the other person is gone. At least the song and the album leave on what is hopefully a positive – the repetition of 'we try again' – unless of course that's another example of being unable to commit to the breakup of what is clearly an unhealthy relationship. Is is 'we always fight and hate each other but we try again', or is it 'that's the end of another relationship, but I'm alive, so we try again'? Shit.
On to part 2 of the Podcast. We begin with Paul and Sanja's thoughts on Rich which I covered in my Part One post. Before then, Paul lists some of the other hits which were released in 1999 – mostly a load of shite. Is this leading in to a 'everything was shit in 1999'? Yes, it was certainly a transitional period, but all of the Nu Metal and pop-punk stuff was coming out – at least in the US. And all of the 'The' rock bands. Rock music had a massive 5-6 year resurgence around this time before disappearing completely. Paul lists some albums from 99 – most of which I either haven't heard or didn't like. Here's some albums I recommend from 1999 which Paul didn't mention –  recommended all – Blondie's No Exit, The Slim Shady LP (there's a case to be made for Eminem's early stuff to be Rap Prog…. maybe… yikes, saying that's going to piss a lot of people off), Aphex Twin's EP Windowlicker, Lene Marlin's fragile Playing My Game, the mighty Californication, Lacuna Coil's In A Reverie, Muse's Showbiz, and Rage Against The Machine's Battle Of LA. Some stuff I still listen to today in there.
Back to Rich and Sanja's revelation that she doesn't like screaming. Looking forward to Season 2 of BYAMPOD which investigates Prog's influence on Black Metal. She thinks the song is fine, optimistic, not timeless. Paul says he thinks the song is supposed to sound retro – hence my Austin Powers reference. I didn't get anything coming close to sounding like The Doors. It tries to reach a sound and vibe, but fails according to Paul. Fair enough, I felt it was supposed to be a bit of fun and a bit of a joke. Paul has issues with the production – this isn't one of the Steven Wilson tracks – and he doesn't like the vocal approach. I don't know which version of the song I heard (remix or original) but I think I made a comments about the vocals sounding odd. With all that, they still think it's fun throwaway fare and probably written to be a live banger. Maybe there was a more crystalline authenticity in those early fun pop rock songs which Paul mentions, compared to songs like Rich – they were just setting out so those songs were more of a symbol of the band telling the world 'this is us'. When a band later in their career tries to recapture that, or sound like someone else, it can feel trite and false. Just do a covers album, get it out of yer system. Have they done a covers album?
The guys say the lyrics are just a collection of positivity quotes, like what you may see framed in your mother in law's bathroom. Or father in law's, I'm not sexist. Though you're more likely to see firearms and framed pictures of MX5s in my father in laws. Sanja thinks the lyrics act as a counterpoint to A Legacy, more positive, more forgiving. The lyrics are quotes from other people – actors, writers etc – slapped together to make a lyric. I like that idea, I used to play around with 'borrowing' whatever I'd read and stick in a song to show off that I'd read a book or seen a movie no-one else had. Everyone pronounces it 'anus'. Anus Ninny.
Enlightened – not a standout, but pretty. I always have the subtitles on these days, but usually because someone else is talking in the room or there's a young'un a sleepin'. Paul doesn't like the sound of the guitar solo but says as pretty as it is it is simply forgettable. Sanja loves the lyrics, but Paul says they're about nothing and are as forgettable. Sanja enjoys the poetry of the lyrics and the more positive energy. I'll give it this – the lyrics sound more interesting when Sanja reads them than when I do, or when H sings them. I bet that any time you've ever sat in a cafe there's been some bloke sitting near you, thinking about shagging. Or a woman, I'm not sexist. Though you're more likely to see women screaming at their babies to stop throwing their scones on the ground in the cafes I've been to. Maybe I am sexist.
Speaking of sexism, Built In Bastard Radar is up next. Sanja doesn't have much to say about the music on the positive side, and they're building up to ripping the lyrics to shred. Paul thinks it's an unfinished song and shouldn't be on the album – maybe it needed more time to turn it into something else. I don't know if I felt that… feels more like a B-Side or one of those 'lost' songs which are better lost – like Cornshucker by Guns N Roses. It's a Helmer lyric… does that mean we can excuse H? Did they go on the record as saying they don't like it after they heard the fans saying they didn't like it. No matter which way you take the lyrics, they're not great. H has an inkling that Helmer wrote it about H – when I read that 'fancy clothes' line I first assumed it was H writing about himself.
Paul doesn't think Tumble Down The Years is a finished song either. Again, I didn't feel this so I'll go back and listen again. Sometimes it happens – you have an idea or a lyric and you just can't get it right. Less often you have the music but not the icing. I felt like Tumble was one of the more finished or complete songs because I couldn't think of anything which needed to be trimmed or added – versus almost every other song on the album. Every other song I would have cut specific sections or changed the arrangement. Would Paul have enjoyed the song more if the rest of the album was stronger? I'd veer on the side of it being a breezy pop oriented song to stick on the album as a breather before the big boys rather than being unfinished. I do have a habit of enjoying the most basic song on otherwise complex albums though, so what do I know?
Interior Lulu went very wrong during a live show. It went very wrong during the recording too – the spoiler being the fact that it appears on the album at all. This is isn't unfinished – it's overdone. Yeah, cut parts out, turn it into something else. I have no issue with bands doing this. Unless of course it's a song I love, in which case I'll hunt you down if you were to change one such song. Credit to them having an overt, modern prog song in there but had they lost something in their prog writing due to years of that side of the band being on the back burner? It's easy to get out of the groove if you're not practicing and performing. Both Paul and Sanja are unsure of how they feel about the song – the general consensus being the keyboard freak-out should have been cut. Side note – these flaming hot Pringles I'm wolfing down are burning my face off. Looks like Sanja has her ideas about the lyrics, but Paul has no idea. Sanja thinks the Lulu is a metaphor for a part of your personality which, while unfettered and wild and negative, can be useful. Then a bunch of stuff about technology. I can see that, just as much as I can see any other interpretation. It reads as a song written by multiple people. I can understand what H says about it too, at least the first half. I was wondering if Primrose Hill was related to technology, like Silicon Valley… I was guessing that Primrose Hill was maybe where Bill Gates built his first robot castle or something. Whatever is trying to be said in the lyrics isn't actually said… the lyrics feel more unfinished than the music.
Paul and Rose both call out House as their favourite track on the album – oops. I had some suspicions that fans might enjoy this one simply because of its length. Again, for 1999 or whatever, that's a misguided quote. Prog by it's nature should absorb influences… has H even heard Dark Side Of The Moon? Mezzanine is a fantastic album – when it came out and I was a teen and laser focused on Metal and Rock it was one of those albums in my wisdom which I could stand by as 'not your usual Dance shite'. Sounds like H was a bit of a knob around this time. The rest of the band didn't like House much. All these influences. At least no-one called out Alice In Chains.
H says the song is about ghosts (divorce) and as such that happy ending has a coda. It's like… Battle Royale – those inserted scenes of the class playing basketball or supporting the team and being happy, after we've had a couple of hours of them slaughtering each other. Or it's not like that at all. The guys don't talk much about what it is about House they love – Paul says the lyrics are among his favourites. Nah, I think Paul and Sanja both hate House too. Next up is a better album, one which was a relief for Paul and a lot of fans after .com. 'Doing a Marillion'… sounds like a euphemism for H being caught with his hands down his gunks in a Cafe. Puns… John Helmer's Mayonnaise?
I do think I like Marillion.com more than Radiation. Aside from the two closing songs, most of my journey was positive. However, it's an album where many of the songs start with something I like, follow up with a transition to something I don't like, and then double down on the thing I don't like. Most of the songs are made up of different pieces – not unusual for this band – but the pieces felt more disparate, less connected here. That can be taken in many different ways – positive, as the band are showcasing their creativity, their willingness and ability to go beyond the expectations of a formulaic song, but here it felt less about creativity and more like uncertainty. Perhaps because many of the pieces don't fit I got the sense that the band was less concerned with writing formed songs and more with throwing everything at the wall and hoping that some of it would stick.
Having said that, the songs which felt like more than a sum of their parts – Go!, Tumble Down The Years, Deserve, while not top tier music or top tier Marillion, they're still strong enough that I'll happily listen to them again, and I didn't have to work to enjoy them. Immediacy may not last, but it often hits you in the face with more force than a song which grows on you later. These songs had that immediate impact for me – they didn't change my life, but I could hum along after a single listen. Immediacy may not be high on the list of importance for Marillion fans and longevity is often (and sometimes rightly) valued as a truer sign of quality, but there's a fine line between having to work to enjoy something and allowing it the time to sink in. There's nothing wrong with something being enjoyable out of the box then quickly becoming less so – you still enjoyed it. I don't know how much enjoyment I'll get out of the songs I did like here, or if my opinion will change on the ones I didn't, but with so much music out there to be heard I admit to gravitating towards and staying with those songs which shout the loudest.
That's enough of .com for now. The guys will be back with a postbag episode before tackling that one about coats or something. As always, feel free to share your thoughts on the album below and make sure to check out BYAMPOD for yourselves!