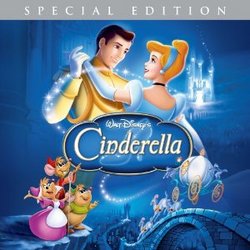 Greetings, Glancers! As promised we're 100% back on familiar ground as Disney hauled its considerable ass out of the trenches of the 1940s and kicked off its second Golden Age with every young girl's favourite, Cinderella, a tale of automotive pumpkins and foot fetishists. That means we get to listen to at least two songs which have been absorbed into our collective consciousness, and a bunch of other, probably feeble efforts. And look, there's some lost tracks too! I'm skipping the instrumentals.
'Main Titles'. Oh, these Main Title songs are always terrible. They'll be abandoned soon enough. This starts with triumphant horns and the weird 'Cinderella, you're as lovely as your name'. First, it's a pretty horrible name. Secondly, isn't it a hurtful name too and pretty dirty – Cinders – Cinderella? Somehow the vocals don't annoy as much as most of the other Main Title efforts and the music is quite sweet – one of the better introductory songs.
'A Dream Is A Wish Your Heart Makes'. It's true… a dream is a wish your heart makes. All my dreams are about zombies. Everyone knows this, everyone loves it. It's one every youtube Disney Princess attempts. It's still lovely. The arrangement of the original is a little dated but still allow you to drift into fantasy. I could do without the extended introduction and just have the actual song. It's a classic.
'Oh Swing Sweet Nightingale'. Damn, I forgot this one and it always gets stuck in my head for hours – the only problem is that it's the stepsisters' version which gets stuck. As with any time this happens, the only way to cure myself is to sing it myself – cue nasal, off tune stepsister wailing aye-yae-aye!
'The Work Song (etc)'. This collection has some good moments. Gus Gus and co are pretty funny, and even though the vocals are a mixture of a constipated butcher who's been punted in the testiculars and Alvin and The Chipmunks, they're still more tolerable than all that 40s choral shite. The main problem with this track is that it's over nine minutes long and has all the instrumental interludes included – take all that out and you've got a better four minutes.
'Where Did I Put That Thing/Bibbidi Bobbidi Boo'. This is the second classic. If you don't know Bibbidi Bobbidi Boo then I don't know what to say to you. It's nonsense, but every decade or so such a nonsensical song comes around and sells by the gazillion.
'Reception At The Palace/So This Is Love'. The first part is actually a pretty great piece of music, accentuating the regal and wonder. So This Is Love is a bit of a forgotten classic – everyone's heard it, but it gets overshadowed by A Dream. It fits well with Cinderella's dreamy persona, her vocals are good, his are not, and it's all very lovely again.
'I'm In The Middle Of A Muddle'. Can I just reiterate how cool it is that all these extra songs are released so many decades later. How many people have grown up with these movies, thinking they know everything about them, and having them become part of the very fabric of each person, and then BOOM, here's a song that was cut from the movie. That's why I love DVDs and the like so much – all the extras which may take five or ten or fifty years to discover – only to make you fall in love again. So, I've never heard this. This is a jaunty piano piece, I've no idea who is meant to be singing this in the movie, or where it should appear, but it's pretty good fun. There's another, jazzier version of it which suggests it is Cinderella singing.
'I Lost My Heart At The Ball'. Another piano intro and decent vocals. It's a demo so it's plain and simple. This is another nice song. Cinderella is a short movie, I'm sure they could have squeezed this in somewhere.
'The Mouse Song'. Jeepers, these are all good. Not amazing, but good fun. This is more piano led wackiness. Funny lyrics too, it reminds me of Animaniacs.
'Sing A Little, Dream A Little'. I'm done, guys, I'm done. As idiots say. Another fine lost song. It's a wonder they didn't rework these for a Cinderella re-release or later movie.
'Dancing On A Cloud'. Y'all already know. It's just plain piano and vocals again, but this one is extra fine. I could do with better male vocals though. Maybe the other non-demo version has them… nope.
'The Dress That My Mother Wore'. You're killing me – how many of these are there – there's more cut songs than songs which actually appeared in the movie. Fine, these demos are all a little samey, but I put that down to them just being demos. This is a bittersweet one which enhances the character of Cinders.
'The Face That I See In The Night'. This starts with a bloke instead. There's some female 'oohing' in the background. Again, this would have been better with a full version. There is a full version, but it's contemporary and loses something.
There you go, probably the best Disney soundtrack so far and an unexpected bunch of extra songs which were unexpectedly good. Let us know in the comments what you think of the Cinderella soundtrack and if you have any favourites.