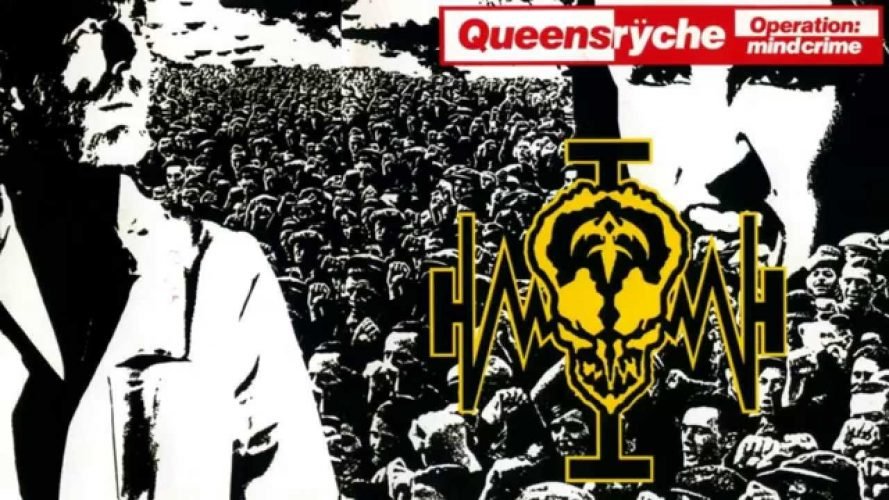 Greetings, Glancers! Queensryche. They were 'one of those foreign bands' my 10 year old self would have said without a hint of irony. It was a shock when I later found out they weren't even 'foreign'. When I used to read metal magazines back in the day, they were one of the bands I felt I knew, purely because they were mentioned and discussed quite a bit, without me ever hearing any of their stuff. At some point though, I did hear them. I had a few friends who had older siblings, which is likely how I got into a lot of music and movies – seeing posters on their bedrooms of things I wasn't allowed to watch, or was too young to full comprehend beyond thinking it looked and sounded cool. Operation Mindcrime was one of those things – it wasn't scary and devil-worshippy like some of those foreign bands, but they told stories with their songs and their songs had cool names. Come to think of it, it may have been one of my first exposures to the concept album, though I would have heard Pink Floyd and a lot of Alice Cooper by this point.
I've no idea when it was I last heard any of this. In fact, I'm not sure I've ever listened to Queensryche beyond what is on this album. Popoff ranks it in the Top Ten metal albums of all time – far above albums I know I love a lot more. It's time for a re-evaluation. I probably won't go into much detail with the concept or lyrical side of things – I get the feeling that will require more focus on my part, rather than me listening and typing at the same time.
I Remember Now: The thing I never liked much about Concept Albums (especially Metal ones) are the spoken tracks like this – I mean, Eminem is probably the best at this sort of thing. Alice Cooper and Pink Floyd had the wit to make the spoken part a part of a genuine song. Stuff like this has a tendency to come off as naff to anyone who's not au fait with prog, and even then it's touch and go. But it's okay, this is just their way of setting up the story.
Anarchy X: The album gets a proper introduction with this brief instrumental, a militaristic march and series of chants all heightening the themes of protest and anti-whatever. We get a nice guitar piece and the music builds before blending into –
Revolution Calling: – which has that nice atmospheric guitar tone I always enjoyed. I remember clearly pieces of this, the vocals aren't exactly my thing now but I used to think it was bad-ass back then, back when every metal singer sounded like they had no balls. The guitars are still good, melodically the verse is a little scattered, the chorus better, the solo strong. Lyrically it's like a carpet bomb of all the stuff we should be fighting against, again without much focus – politicians are bad, rules are bad, religion is bad, greed is bad – they basically could have sung those four statements and followed it up with the chorus and had the same result.
Operation: Mindcrime: This song starts with a bit of a tease – you always think the drums are going to come in earlier than they do, and when they finally do the song is revealed to be much slower than you anticipated. I wouldn't go so far as saying it's funky, but there's certainly a rhythmic quality to the structure, and the bass is going places where metal songs usually fear to tread. The guitars are the highlight here, without being amazing or being particularly inventive. It's a song with ideas, just lacking a major hook if you're into such things.
Speak: This picks up the pace and adds a sense of urgency. The problem is again the lyrics – when you're doing storytelling in lyrics you don't leave a lot of room for both the words and music to be strong. Here the music is straightforward and the lyrics are pretty silly and simplified, but we get the point – stuff is bad, we must make it better. You get the impression that this was (and still is) probably taken as a call to arms by both sides of the same coin. Because people are stupid. Another nice solo.
Spreading The Disease: We all know this one. Phat drums give way to guitars and a charging verse. I took this as a 'lets get angry at rich people' song or sometimes a 'drugs are cool' song when I was young, but most often a 'whatever the disease is, lets spread it' song. It's pretty obvious what it's all about now… glad to see America has changed since its release. Oh wait. The rich are still rich, and the US still funds wars in other countries to increase the wealth of their 1%? Well, it's not like that has ever come back to bite them in the ass.
The Mission: A sermon and a bell delivered to the sound of a gun being loaded, before church bells and ominous riffs collide. Church bells and riffs always seem to go together. This is more my style of things – a nice and thoughtful build-up before a throbbing, sinister verse. It's a pity so many of the melodies and chorus styles are so similar from song to song. Good thing we make up for it with great solos and, here, synth work.
Suite Sister Mary: A near eleven minute epic starts out with some more story, go kill Mary and The Priest etc. We then get a stalking riff conjoined with Omen style chanting, all building up a nice atmosphere. I would have preferred this to continue but the verse largely abandons the good ground work for a more whispering, subtle approach. The verse gets better as it progresses and the storytelling lyrics work more fluidly. The chanting comes back, acting as an interlude before the heavier guitars take us to the next section. There's a definite grasp at the operatic, at the epic here – melodically it still doesn't quite get there for me. The various repetitions of the main hook do grow on me, but not quite enough. It's a song you'll need to listen to four or five times before any of it will stay with you. There's some great, epic stuff in the middle which shows the heights the band were aiming for – if you're doing an album like this you need the balls to shoot for the moon, and the talent to pull it off.
The Needle Lies: A much needed blast of pace highlights this as obvious single or metal club hit – it's the song you could lift off the album and listen to out of any wider context, it's the song you'd want to share to get your mates to listen to the album. This is straight to the point, lyrically and musically, and as such is probably my favourite of the album so far. There's no grand aspiration beyond making a face-melting metal classic and that's what they do.
Electric Requiem: Of course they follow it up with a brief track of chatter and instrumentation and yells. It's not skippable, like many similar tracks on similar albums are – I'm looking at you Nightfall On Middle Earth – but it's not one you'd go looking for either.
Breaking The Silence: I recall liking this one quite a bit when I was younger. It has the atmospheric chugging guitars I like so much, and most crucially it has the melody and emotion to make it all worthwhile. It feels like an 80s Power Ballad and wouldn't be out of place on one of those Power Ballad or Car Driving 3 CD compilations you see marketed to Dads at Christmas. It's not quite as cheesy as most of those, but you know me – anything Power Ballad or Power Ballad adjacent I probably enjoy.
I Don't Believe In Love: This one was pretty famous back in the day too, though I don't remember much of it. It's very much in the vein of the last song, though with more of an edge. The lyrics are of course cynical which adds to that edge, but you can still see it as a Power Ballad, the music video likely featuring a sultry vixen dancing in shadows while the singer throws a whiskey baller against the wall and shrieks into the camera.
Waiting For 22: Nice transition into another extended atmospheric intro. The song is just an intro track for the next song, but it works well enough on its own too. It's not one you're likely to play much on its own though.
My Empty Room: This one also feels like an introduction, a short build up to the closer. No need for the friend yelling and sudden end though – it's clearly ripped from The Wall but doesn't work nearly as well.
Eyes Of A Stranger: The closer begins as another clear rip-off of a very specific song from The Wall but quickly becomes its own thing. The swell of music promises something good, but it falls away for a more mellow verse instead. The volume comes eventually, good vocals sound emotional, and the melodies are fine. Good solo in the middle, not quite the epic closer I was expecting.
Almost every song in this album has a comment on Youtube either comparing this with The Wall or saying it's better. I know that Youtube isn't exactly the bastion of intelligence it thinks it is, but just remember that your comments are there forever once published. Even if you delete them. I'll take the comparisons – they're both prog albums of a sort, but they are both very different in style, approach, and tone, and subject matter. While this was taking metal in new, more expansive directions, The Wall was basically – nine years earlier – saying every final thing that prog ever needed to say. There's honestly no comparison between this and The Wall, because there's not really any comparison between anything and The Wall. 
Still, it's an album that my opinion of hasn't really changed over the decades. Mostly it comes down to that most base of Metal opinions – I like the guitars. There are plenty of ideas and obviously a lot of work and thought went into forming the songs and the concept. There are many many better metal albums out there, concept or otherwise. In fact, take the concept out of this and the music isn't nearly as adventurous as other albums released around the same time. We expect progressive music to be just that – challenging, doing things that others haven't, or doing things that others have but to the next level. I wasn't in a position to compare these things when this was released, but in retrospect you can see other acts were already years ahead by the time this came out.
I enjoy the second half more – that's when the band remembers they're making music, not just telling a story, and slaps some worthy melodies into the mix. Some of the songs have become metal classics for many people, but for me the biggest and/or best songs hover around the high C, mid B Grade territory – not enough emotion of melody to truly engage me. The world can use these types of albums though, and if anything they can spur others on to better things. If the first half had the melodies of the second, I'd hold this much higher in my estimation. I'll admit that, as with most albums of this type, it probably takes multiple listens to sink in and to fully get on board, but sometimes you just know it won't ever be your bag.
Nightman's Playlist Pics: Breaking The Silence. The Needle Lies. I Don't Believe In Love.