Official Nominations: Dangerous Moves. Beyond The Walls. Camila. Double Feature. Wartime Romance.
As 'Eighties' as the domestic categories (and particularly my choices) are this year, the same can't be said for the Best Foreign Feature category. If Dangerous Moves had been a Hollywood film this year, it would have starred Rodney Dangerfield as the wise-cracking, alcoholic chess grandmaster and Matthew Broderick would have been the wise-cracking young up and comer. There would have been a scene in an arcade, and hot young twenty something actress would have appeared in a bikini at some point. Being a Swiss movie, it's a tad more serious. It feels like the Chariots Of Fire of the Chess world.
Beyond The Walls is a bit grim, isn't it? Set in a prison, it's about the fighting and in-fighting and conspiracy between a group of Israeli and Palestinian prisoners. Camila feels like a Hollywood Biopic – taking a tragic cult figure and blowing up the most salacious and famous moments of their life. It's done in a considered way, with Camila presented as something of a martyr, a woman who fell in love with the wrong person in the wrong place and time. Double Feature is one of those films about films which Hollywood loves to celebrate. It's good, but rather than a celebration about the industry it's about how people can be so dedicated to their craft that they lose sight of their families and struggle to re-connect as they age out of the business.
Finally, Wartime Romance is exactly that – a Russian Romantic Drama about a soldier who re-connects with the nurse he had been obsessed with a decade earlier, who he then has a hand in bringing back to her former confidence and beauty. It's not great.
My Winner: Camila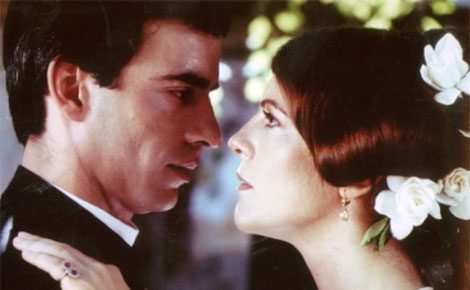 My Nominations: The Never Ending Story. 1984. The Company Of Wolves. The Element Of Crime. Greystroke. The Hit. The Killing Fields.
Can we get away with having The Never Ending Story here? I mean, they got away with giving the film that name, so I think we're good. It was a joint production between Germany and the US… I'll allow it, just this once. It's another of those movies which was always on TV when I was young, and another which we watched in School when the teachers couldn't be arsed. I've never been as big a fan of it as others, and I don't think I've ever bothered with the sequels, but it's fun.
The UK was putting out a fair few decent films in the 80s – not the dreary dramas and unfunny rom-coms we typically see. 1984 was inevitable, and should have received an official nomination while The Killing Fields was of course a huge critical success. The Hit saw Stephen Frears flexing his muscle, making one of the few London Gangster movies I enjoy. Story wise, it's nothing out of the ordinary, beyond placing a lot of the tropes into a pseudo-road movie and bringing together a great cast – Terence Stamp, John Hurt, and Tim Roth. It follows an ex criminal tout enjoying his retirement thanks to ratting out his old mates, whose past catches up with him.
Greystroke is one of the more enjoyable adventure movies of the era, clearly inspired by the success of Indiana Jones but going its own way, taking the Tarzan stories and bringing them up to date. The Company Of Wolves is a movie I saw when I was very young and one whose images stayed with me for many years until I was able to watch it again. It's certainly a film of images, given the fantastical, almost nonsensical and secondary nature of its story. It's basically a re-telling of Little Red Riding Hood, but with a heavily erotic and violent slant, told with grim visual beaty by Neil Jordan. It's a dense film with stories within stories, the aforementioned startling imagery, and a touch of blood and guts.
Finally, The Element Of Crime is Lars Von Trier's debut. He's far from full Von Trier here, but many of the elements (ahem) which would make up his later, more controversial work, is clear to see – the self-deprecating humour, the violence, the stretchy veil between tongue-in-cheek/satire/reality. It's very strange, but full of ideas.
My Winner: The Company Of Wolves.
Let us know your winner in the comments!