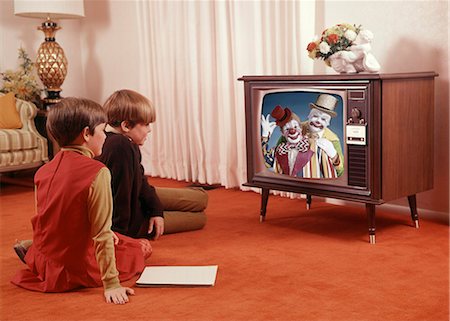 Greetings, Glancers! It has been some time since I've made a cheap, click-bait list oriented post such as this, but I recently received a Spike in my viewership due to people discovering my Britain's Top 50 Songs Of The 1980s post. That was a fun post to watch, and a more savvy blogger than I would know to capitalize on this momentum and try to push more similar content. I'm neither savvy, nor a blogger, nor anything really, but I do like reading lists, writing lists, and talking about them, so here we are.
It's not music this time – as the title suggests I'm going to take a look at Rolling Stone's Greatest TV Shows Of All Time thing from a few years ago, comment on each entry, and add my own feeble thoughts. If you're into that, pull up a chaise-longue, recline like a Dandy, and cast a care-free or critical eye over my rantings. It should be stated that this particular list was published by Rolling Stone in 2016, and we've had a great many great shows since then. It's a Top 100 in ascending (descending?) order so certain shows, great, cult, shite, and personal favourite are obviously going to be missed. Also, this isn't just the work and opinion of one person – Rolling Stone did their due diligence and pulled results from a wide array of industry insiders and out peers and betters. It will likely be inherently US biased. Lets do this.
100. Eastbound And Down
I've heard of this, but never seen it and don't know anything about it. Not a great start. Aparently it's a Danny McBride thing. I like him. To a point.
99. Oz
I 'have' it, but have never watched it. Prison stuff rarely does anything for me as they follow a strict story formula with the same group of characters and situations. I've seen parts of it and plenty of my mates swore by it at the time. I'll get to it eventually.
98. The Golden Girls
Yeeaaah, no. I'm sure I'd appreciate it more if I watched it now instead of when I was exposed to it as a child, but it holds zero draw for me.
97. Portlandia.
Never heard of it, don't know what it is, seems like something which will immediately drop out of a list like this once something new comes along.
96. Gunsmoke.
One of the many, many Western oriented shows of the 1950s onwards. This shtick was a staple of US TV back then, I think I've seen bits of episodes here and there, but I wouldn't know how to differentiate this from any of the other shows or suggest how it deserves a place on the list over any of the others? Was it the first? The best?
95. Key And Peele
I've heard of this one at least, never seen it. I know Jordan has gone on to big Hollywood business – Get Out and Us were both hit and miss for me, enjoyable but not as perfect as the wilsly positive feedback would have you suggest. I think this is a sketch comedy show, but also showed their love for horror. Humour can be hit and miss for me too, though usually sketch comedy works well.
94. Jeopardy.
Ahh, so they're doing gameshows too? I love gameshows. Anything with questions, a novel idea, and even better some sort of physical action or hook to latch on to and make the thing more interactive or demanding. Jeopardy had a number of hooks – the whole answer backwards thing and losing your money thing. We have our own UK version of it – I don't know how popular it was, but I watched it the odd time. It wasn't the most exciting show – no hefty prizes or visual quirks or physical stuff. American versions of gameshows I know from other Countries almost never work for me – not sure why, something about the hosts and the comedy doesn't seem to translate well.
93. Mystery Science Theater 3000. 
I've never seen it, but I know what it is and we had similar versions over here.
92. American Idol.
Oh, fuck off. There's no doubting how hugely influential the show was (was this first or Pop Idol or X Factor? They're all the same) and how many millions have watched it. I've been forced to watch it. It's an easy format to get into, but as someone who actually cares about music at as deep a level as I possibly can – I listen, I write and talk about music, I think about music every day, I have written, recorded, performed my own (even if too an extremely limited degree). Music is and always has been a huge part of my life. The majority of the music and the opinions of this show and its ilk, are bad. It's mass produced, image-oriented, business man music. That's perfectly fine for some and it makes the world go round. Hell, I even enjoy some of it. But it's not the music I go for. It ignores the talents of the creator (s) and reduces it to the single person on stage, or even worse to the people judging the person, who are often not the greatest judges of musical quality. It's so reductive, there's such an aura of disposability around it and the people it churns out, and at its core it is not a show about talent – it's a show about abuse and exploitation.
91. Broad City
Never heard of it, or if I have I don't remember.
90. The Dick Van Dyke Show.
I've never been a fan of Mr Van Dyke. I can't say I've seen this show, but I'm sure it entertained the boomers, or something.
89. Homeland
I've seen the whole thing. It's an engaging show – I love Claire Danes and the supporting cast the show built is very strong. There were a few plot mis-steps along the way. While most people were interested in the whole love triangle and mystery of the opening seasons, I got more hooked on the mid- show Pakistan terrorism ark. It lost its way, certain stories were dragged out too long, things I was more keen on were dismissed or wrapped up too quickly, and many ideas were recycled to the point of nonsense. But it continued to hold its own and was always entertaining even when it became increasingly silly.
88. Party Down
Never heard of it.
87. Doctor Who
If this were a British list I would suspect the show would be much higher. Doctor Who has always gone through peaks of popularity – after the boom of shows like Buffy, Doctor Who was given a sexy modern revamp and saw the show soar outside of the UK. I've never really watched it. I watched as a kid in the 80s and was scared like everyone else, but outside of McCoy and the odd episode here and there from other eras, it's not something I've ever felt the desire to watch.
86. Good Times
I don't think I've heard of this one, but there were so many 70s-80s sitcoms that they get a little mixed up in my mind. This is probably the era of American sitcoms I have the most nostalgia for, and I usually enjoy them, but the 90s era was the peak for my own personal enjoyment.
85. The Real World
The really Daddy of Reality TV has a lot to answer for. I never cared for any reality TV because I find reality and other people, and myself, mostly incredibly dull, self-centred, and I don't want to spend any time with them. I prefer fiction. Nevertheless, I caught the odd episode of this when it was first popular, because the older teens were all watching it and I would get roped in to pretending to like it too.
84. Real Time With Bill Maher
This is some sort of talk show, right? We have plenty of those over here. When I was young, it was boring, shouty old men talking about news. When I was older, I had a tonne of actually interesting shows to discover and catch up on. Now, these shows are just another version of reality TV when I do as much as I can to ignore reality seen through the lens of others. I've seen bits of Bill, no idea if its from this show or anything else.
83. House Of Cards
Not a fan of Politics or Political shows, or US Politics (The West Wing is the single exception), and I've never been a fan of Kevin Spacey, even back before people realised what a fucking scumbag he is. I'm sure this is well made and all, but I have zero interest in it. Was Neve Campbell in it for a while?
82. The Jeffersons.
It's another one of those 70s-80s US Sitcoms I never saw. I'm at least aware of this one, but frequently, inexplicably, mix it up with The Jetsons.
81. Dallas
I was too young to watch it or care at its peak, but I did catch episodes here and there when my mum watched it in the 80s. She was more of a Knott's Landing fan though. There's no doubting its success and cultural impact so of course its going to be on this list.
Join me again soon for Part 1, but for now are there any shows above you think I should give a chance? Which ones do you enjoy, and which ones do you think should be nowhere near such a list as this?