Horns up, Glancers! It's time to fill another gap in my metal knowledge with an album I really should know. There's a possibility I've heard all of this before, given that I grew up with a lot of people who like Ozzy, and I know from looking at the tracklist I know a couple of the songs for sure, as they're metal staples, and I'm sure I'll recognise others when I hit play. The album came out in the 80s, just as glam was turning into hair metal and Ozzy's habits were overshadowing his work. The ace in the hole of course was Ozzy bringing Randy Rhoads on board – one of the most electrifying guitarists to ever lay finger to fret. We can be sure there will be some virtuoso guitar on display. First though, lets have a jook at the cover art.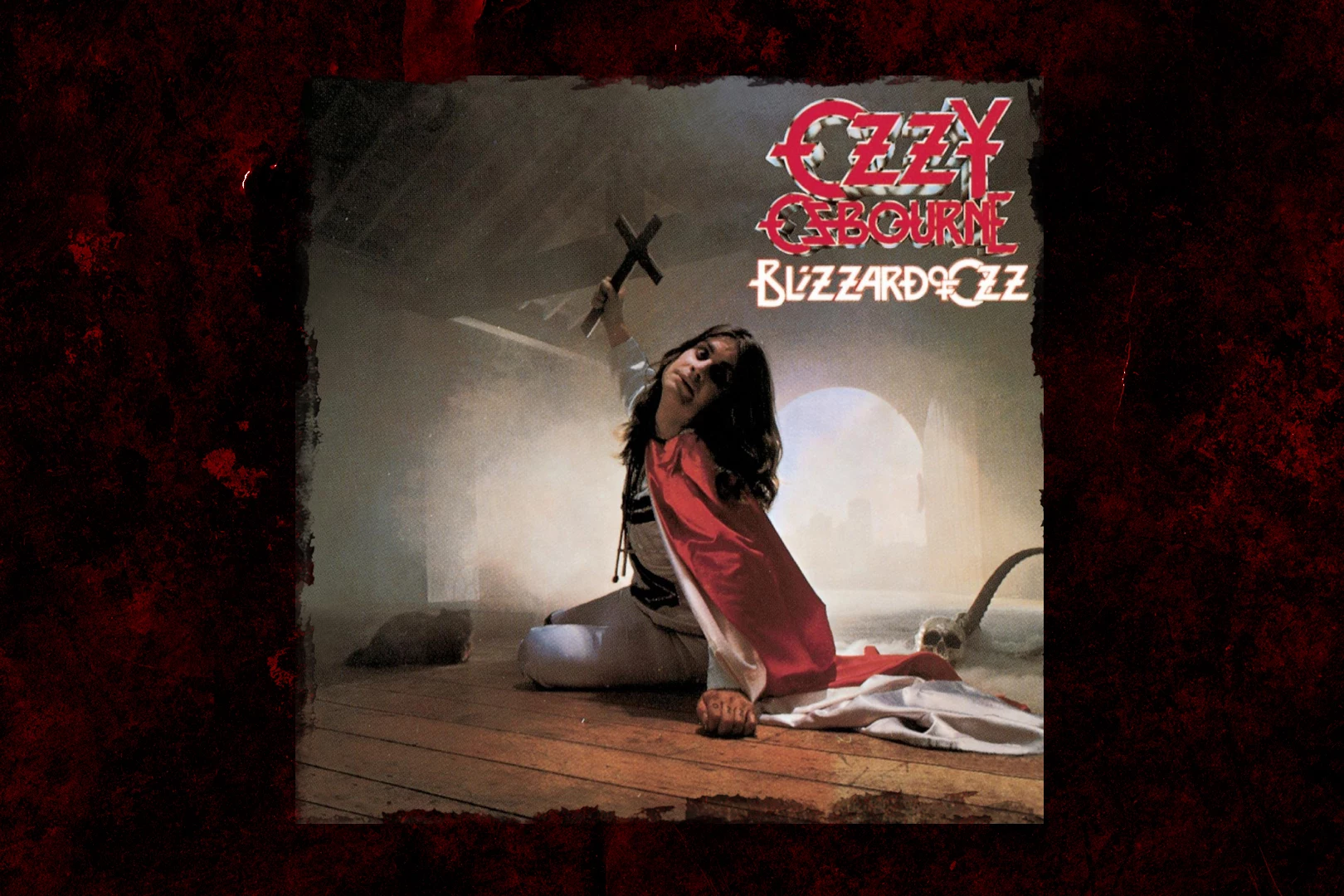 It's not the worst. It's not great, but it was a specific point in time and Ozzy was more than likely completely baked. Is he a vampire attempting some sort of sado-masochist display of pain endurance – clasping at the crucifix while the sun's rays swaddle his rear? Is he channeling his inner Crowley and performing a demonic ritual, complete with unnecessary cape, cat, and skull? Or is he simply going about his daily, regular Ozzy business – clearing out his attack and having a bit of cosplay fun between reading through old copies of the Beano he'd chucked up there ten years earlier? We'll never know, or at least I can't be arsed to Google and find out.
I Don't Know: A Sabbath-like surge followed by charging guitars. The sound is immediately thinner than what Sabbath had. It's an easy opening barrage by Rhoads, but every so often he adds some double-tapping or other trickery to spice things up. Ozzy's vocals are heavily effected with echo as is the norm. There's a strange middle section which feels separate from the rest of the song. It's a very plain opening song which wouldn't be memorable outside of the guitar work.
Crazy Train: The one everyone knows, whether they know it or not. Most people forget the rather unusual intro, the shout, the bass, the weirdness. It isn't until the second riff drops that people recognise it. It's not the heaviest song in the world and would scarcely classify as metal if it wasn't in Ozzy's name. The verse and chorus melodies are famous, even if they're not amazing. Rhoades kicks of a great solo in the middle. It's much more on the pop side of metal, especially if you compare it with Sabbath in terms of tone and construction.
Goodbye To Romance: What the hell is this, is what any self-respecting metal fan should say when the opening notes and croons of this drip from the speakers. It may as well be The Osmonds. It doesn't even sound like Ozzy singing – it sounds like someone recorded Ozzy talking and ran it through some special software which turned it into a melody. One of those songs that the metal guys could shed a tear to back in the day because that hot girl they liked told them to get out of their bathroom. Shucks, it's all nice though.
Dee: It makes sense that a short and sweet instrumental would come after that soppy fart. This is just Rhoades playing something random and sweet.
Suicide Solution: The controversial song. Everything that the Republicans got their titties in a twist about in the 80s was deemed controversial, and almost always for reasons completely out of context. Some things don't change, eh? The song is clearly about the dangers of substance abuse, but some people took it for condoning killing yourself. The chords have a little bit of Beat It about them, but beyond the controversy it's not that memorable a song.
Mr Crowley: Of course, a song about famed occult loony Aleister Crowley would being with some spacey organ synth stuff. It's a much stronger song melodically and rhythmically. It's still simple but there is some surface pausing and phrasing. Another fantastic solo, followed by a neat one near the end which sounds eerily like The Final Countdown. 
No Bone Movies: A countdown and off we go. It's surprising to me how much of a rock album this actual is – very few songs come close to being classed as metal in any sense of the word, and the main reason those songs do is because of Randy's guitar skills. Plenty of non metal bands have terrific guitarists though. What would make this more metal is if Ozzy actually was singing 'no bowel movements' instead of it just sounding like that. It's a silly shouty chorus that gets on my nerves.
Revelation: Here we go, another ballad. I have no issues with ballads in metal, as long as they have an edge. This starts more promisingly than the other one. It's more downbeat. Verse is good, I've no idea what's going in in the chorus – the singing is badly out of tune with the music. Then the second verse goes weird, Ozzy struggles to keep it together, we get some robot voices. A nice instrumental interlude in the middle suggests we're going for the epic – there's even some synthetic string blasts. Then Rhoads busts one out and it's brilliant. This really should have been much better, they just needed to fix up the vocals, bring them down a notch.
Steal Away: A faster song to close us out. At least it's not as screechy as much of the metal of the time. The song is quite plain, at least in it's opening half but we can always rely on Randy to give us something different in the middle.
I already had an inkling, based on what I've heard of this and Ozzy's other stuff before, that I wouldn't think much of it. I'm surprised and a little let down by how tame it is. I won't get into the whole 'is it rock, is it metal' debate, but the truth is that this sounds and feels a hell of a lot less heavy than much of the other heavy music at the time. It's not quite pop like the later hair bands would be, but it lacks the boundary pushing of metal – the extra riff, the additional time-shift, the drive to take the song as far as it can go. Stick a different guitarist in there and take Ozzy's name off it, and you have a forgettable rock album. There's no sound musical or critical reason why this should be lauded so highly on a Best Heavy Metal albums list. I've heard genuine pop artists be more metal than this. Even if it is more on the lighter side, the songs themselves don't get you (me) pumped up, the riffs are forgettable, and there's nary a crowd-pleasing chorus in the bunch. A distinctly average effort.
Let us know in the comments why I'm wrong about Blizzard Of Oz!
Nightman's Playlist Picks: Crazy Train. Mr Crowley. Revelation.