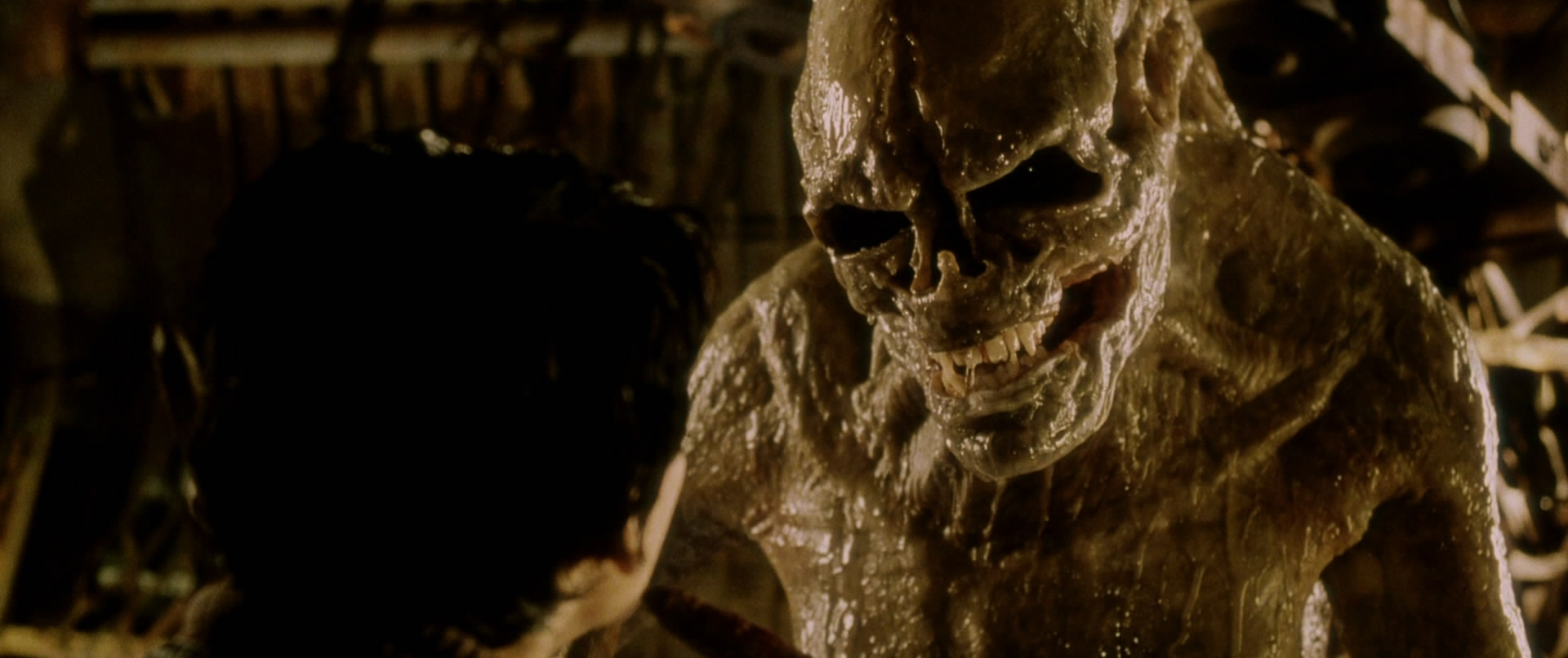 Alien Resurrection
One of the big criticisms against Alien 3 was the lack of action. And horror. I mean, there was also a lack of direction, no memorable characters, and the overall story wasn't very interesting – but it's still a damn sight better than Resurrection. Resurrection should work – you have Joss Whedon writing – an upcoming star with a love for the genre and strong female characters, you have Jean Pierre Jeunet directing – a director with a distinct visual flair, you have a return to action, a great cast, and Ripley's back! And swimming Aliens! But somehow everything that could go wrong, does. The story is a mess – the bad guys have somehow brought Ripley back from a lava-based death because that was the only way they could find and clone the Xenomorph, but there's space pirates or something and Ripley is essentially de-humanized. Jeunet doesn't do horror often, and his voice and eye and humour simply don't work in this world with this script. He brings his usual pals who make up the bulk of the cast, leading to a mish mash of accents and faces who should be more memorable than the shaved-bald nobodies of part 3, but zero time is spent defining any of them. Similarly, the action feels like it was directed by someone more comfortable with corsets and wigs than plasma rifles and grenades. There's precious little horror or threat or suspense, and the overall vibe feels more like Delicatessen. Swimming aliens are cool though.
Batman And Robin
Legitimately one of the worst films ever made. It's basically Carry On Comic Book Heroes (or if the name of the film appeared in the film itself, it would be called Carry On Cum Ick Boob Herpes) such are the truly awful one liners. I mean, it's clearly aping the 60s series, and possibly the original comics – but who has the time to read that shite – but that in no way makes a thing good. I'm here to see this product, and the product is vomit inducing. I don't think I've cringed more in any other movie – I don't think I cringed more watching this than this time I accidentally gave the tip of my shlong a paper cut. Clooney is… fine.. but why make the change from Val? Chris O Donnell is as suitably bland and forgettable as he was in the previous movie. The worst moments, sadly, come from Arnie and Uma – both dial their performances up to 69 – but there's only so much they could do with material written by a 6 year old future sociopath. Does anyone even remember Alicia Silverstone being in this? It doesn't look like any other Batman movie, which some see as cause for praise, but it's hardly unique in that respect – the only thing unique about this movie is that it holds the spot for worst Batman movie.
Double Team
For those of you who, back in 1997, were wondering 'wait, hasn't Mr Don't Give A Van Damme already made a film called Double Team?' then I'm right there with you. But no, that was the vastly superior Double Impact, which featured Bolo Yeung and an eye-opening sex scene (not literally). No, Double Team is the one with Dennis Rodman, back when he had yellow hair, and back when Mickey Rourke was still a mess. The film is something to do with an ex-dude returning to shooty killy work when his old nemesis starts shooty killing, but the dude is married now and doesn't want to deal with flambouyant NBA stars-turned actor-turned arms dealer-turned friend of North Korea – Dennis Rodman. There's shooting and killing and babies and a tiger…. it's not Tsui Hark's finest hour, and that guy has some of the finest hours ever committed to action cinema.
Gattaca
Maybe it's me, but I prefer my sci-fi movies to be more on the shooty, killy side of the moon. Sci movies which tend towards the thought-provoking or introspective or intellectual tend to not be my jam, unless they are singularly brilliant. This is singularly bland. I'm sure I'd probably enjoy it if I saw it again now, or enjoy it more than what I remember from my first and only viewing decades ago, but I have no desire to return to it.
Contact
Re-read my entry for Gattaca.
In & Out
In the VHS player once, then out and into the bin never to be mentioned again.
Mortal Kombat Annihilation
I was a big fan of the first Mortal Kombat movie. Not because it was amazing or anything, but because I was an obsessive fan of the games at the time, and because it made a decent fist at converting a videogame about muscle-bound freaks tearing each others' arms off and 'getting over here', into a wholly entertaining 90 mins. The sequel, which I waited and waited for, comes with all the annoying cast changes you would expect and an even more overblown and silly plot. Worse, it takes its script from the Batman & Robin school of writing, with dialogue last seen scrawled in the bathroom stall of an Eastern European drug den. Even the fighting and introductions of fan favourite fighters is a complete let down. Lets hope the new movie lives up to the hype of the ridiculous trailer.
Mrs Brown
Maybe I now have an innate dislike of anything with 'Mrs Brown' in the title thanks to that awful sitcom, but this came first and is equally unwatchable. Lets go through the list of things Nightman cannot abide – Costume Drama? English? Quirky humour? The monarchy? This was going to be on my list before it was even released.
Bean
In a year of personal let downs, this was probably the most heinous. Mr Bean is one of my favourite TV shows of all time. I still watch every episode every year. Rowan Atkinson's creation is comedy perfection. But like almost every attempt to bring a British comedy show to the big screen, the movie loses everything which made (makes) the show so wonderful. Gone are the set pieces, the humour is changed to cater to a more American audience – a bizarre change when the show is both Universal and timeless – and having Bean following a larger form plot, such as it is, simply isn't as interesting as seeing him ramble aimlessly from scene to scene and mishap to mishap. Luckliy, the sequel is much better, but I think the day I saw this was the day my childhood died.
The Full Monty
Once again…. lets just go through the list. English? Quirky comedy? Basically a musical? As interesting as (some of) Britpop was in the 90s, the same cannot be said for the films of the era. An unbelievable success, in that I cannot believe anyone paid to see this.
Let us know in the comments what steamers I missed, or if you think I should re-evaluate any of my picks above!