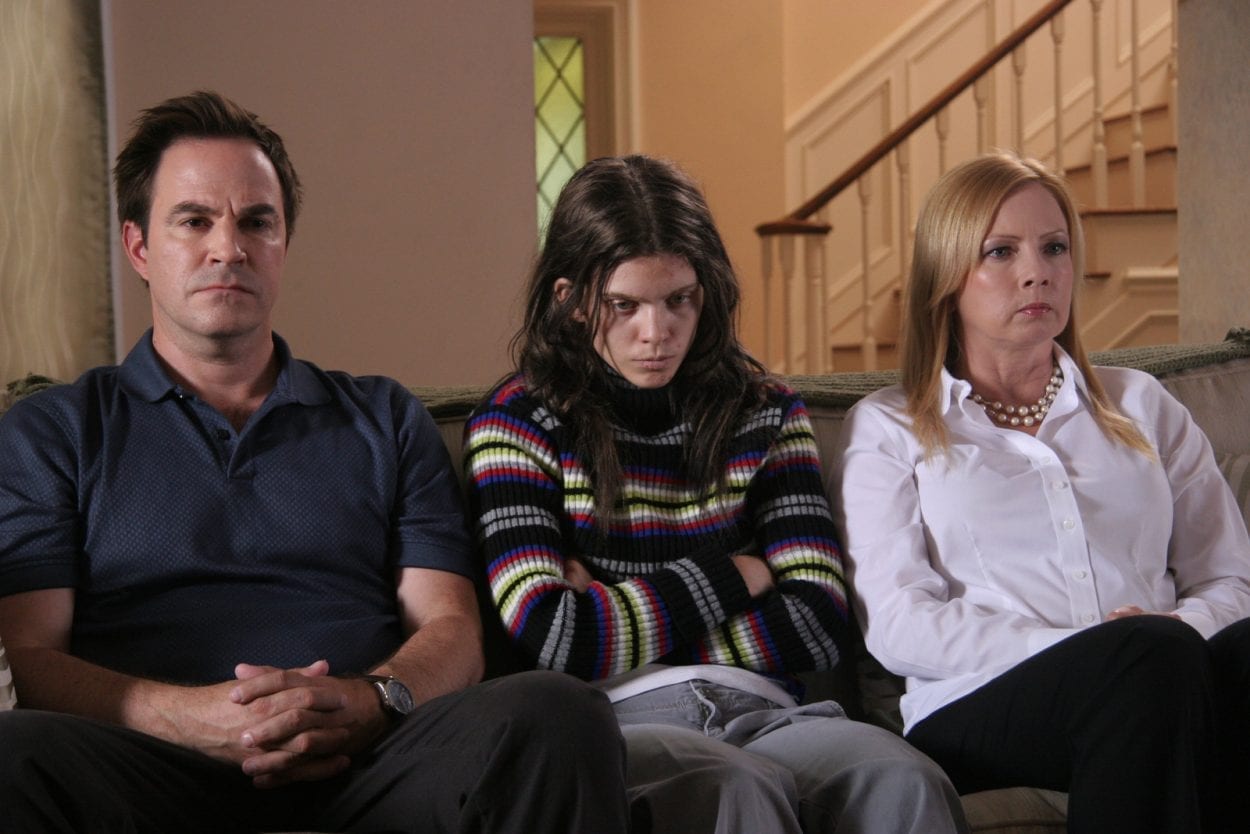 Controversy is a funny thing. Subjects deemed controversial hundreds of years, or even mere decades ago, are now spoken of fondly in polite conversation while the number of taboo topics grows ever smaller. When you through artistic license into the mix, the boundaries become further blurred. While these shifts in opinion are largely governed by the wider shifts of the religious, political, moral, and cultural landscapes, film, music, and art have each made a significant impact. In this enlightened (or corrupt, depending on which side of the argument you may be on) 21st Century, everything is fair game in Cinema as long as you're not breaking any laws. And as long as the censors are cool with it. It's unusual then that a film such as Excision garnered so much controversy upon release given that it was, for my money, a fairly tame and humourous trip down a filthy suburban lane.
Excision is as camp as a Drama teacher named Joan. You could be mistaken for thinking it was a lost John Waters movie from the 90s, such is the comedic and dramatic tone. Indeed, Waters himself appears as a bewildered church minister trying to lead one of his flock back to the path of righteousness. That particular lost lamb is an outcast teenager, a rebellious young woman by the name of Pauline who has nightly sexual fantasies about mutilation and medical operations. These scenes attempt to show the degree of her disturbed mind, but for the majority of the film I found her to be a relatively normal teen archetype. Plagued by cold sores for most of her life after her similarly afflicted father saved her from drowning as a child, she is depicted as a moderately gruesome physical presence – at least when viewed alongside her innocent young sister, the cool kids in school, and the pretty jump-roping neighbour across the street. Given that Pauline is played by professional model AnnaLynne McCord, it's an effective make-up job. McCord gives a snarling and emotive performance as the troubled teen whose only goal in life is to become a doctor (primarily so that she can cut shit up) and to protect her sister, whose cystic fibrosis could snatch her life at any moment. Surrounding McCord we have a range of familiar faces – Traci Lords is well suited as the middle class soccer mom trying to live the American Dream and constantly sniping at her bored and whipped husband (a slumped Roger Bart). Elsewhere, Malcolm McDowell, Ray Wise, and Marlee Matlin pop up.
The funny thing about the controversy, mainly in the form of reviews, is that a lot of these came from seasoned horror fans and websites claiming the film is both unforgettable and difficult to stomach. In truth, the scattered scenes of gore are shot beautifully – as the dream sequences that they are – and everything is most definitely played for tongue in cheek shocks, such as Pauline choosing to lose her virginity to a local jock and asking him to go down on her knowing she is having her period. The only real shock, which felt inevitable throughout the entire film, is the ending. Indeed it's an ending I wasn't offended by in a graphical sense – there's nothing even a generic horror fan hasn't seen before – but more because of the tragedy of it, although I don't believe there was a confirmation that one of the characters involved is actually dead even if it is implied.
My main issue with the film came from my uncertainty over how I was meant to feel in certain moments – was I meant to side with Pauline and feel her pain, or see her as a mentally disturbed figure? Beyond the ending, I didn't feel any true insanity within her. Was I supposed to be shock by the gore and the actions of certain characters, when the tone is so blatantly humorous? Director/writer Richard Bates Jr manages to pull together a stellar indie cast who all revel in the script, and it is clear he has a fondness for the seedier underbelly of suburbia and the modern world – especially when we are aware of his more recent works. Anyone who may have been put off by some of the negative or more finger-wagging reviews should consider those as somewhat over the top – if you're a John Waters or a Horror fan then you'll probably get a kick out of Excision, but it's difficult to see an audience beyond those hallowed, unfazed groups.
Let us know in the comments what you think of Excision!