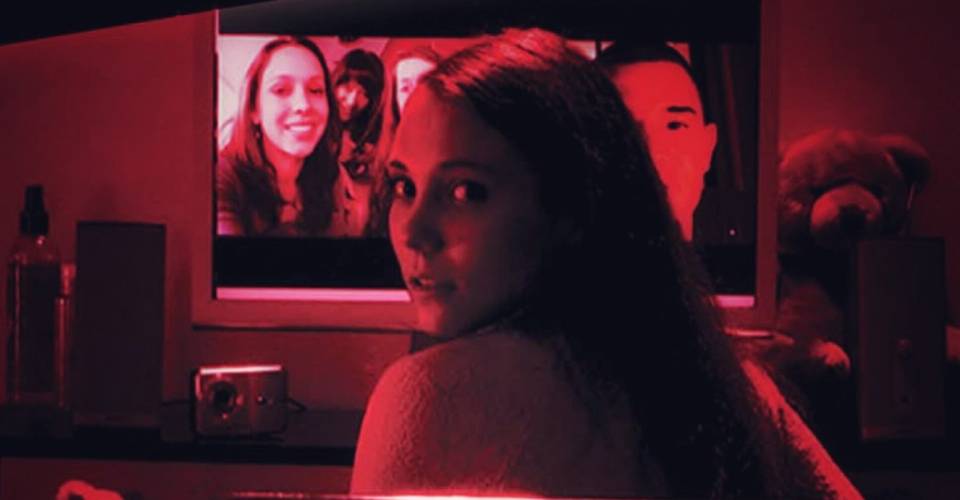 Every so often a film comes around, dragging such a weight of hype behind it that it begins to resemble a cannibalistic graverobber hauling a couple of corpses through a dank and hilly moor. Then there are those films which fly under the radar, only picking up a few glowing reviews sporadically and becoming something of an urban myth. Megan Is Missing falls into the second category – a film heard of, in whispers, but rarely seen. It has been years since Megan Is Missing was released, but every few years the film seems to strike a connection with the latest viral trend, and pops up again in social media feeds from concerned parents, duped tweens, and disgruntled critics. In recent weeks, the film has once again resurfaced thanks to kids on Tik Tok (whatever that is) watching it, being shocked by it, sharing it, and watching each other be shocked by it. But what does a seasoned horror fan make of it all? Spoiler Alert: it's not very good.
Megan Is Missing is less of a movie and more of a masterclass in exploiting viral media and its audience. I was very impressed by director Michael Goi's Twitter comments, advising viewers to switch off the film if they see the number '1' appear on screen at any point, as they would have a few seconds to shut it off before being scarred for life – especially if what they had seen up to that point had disturbed them. Having already seen the movie and being aware of what he was talking about, this was actually quite a shrewd and amusing tactic to get more kids to watch it. Disingenuous or not, that seems to be the goal of the film – to get as many kids as possible to see it, and their parents, to warn them over the dangers of blind online interaction. 
The film follows a couple of girls as they meet a man online who claims to be the same age as they are and strikes up a friendship. If someone says their webcam is broken or doesn't want to share their cam even as you share yours…. it's probably not a good idea to continue communicating with them. Megan is popular with peers, but has a hidden history of abuse and clearly enjoys attention. Her best friend Amy doesn't necessarily approve of Megan's sudden change in behaviour and the online relationship she is beginning, but she is shown to be somewhat naive and jealous. Before long, Megan disappears and Amy takes it upon herself to launch an online and offline search for her friend, believing the guy Megan was talking to is responsible for her disappearance.
The film is made up of mobile phone footage, laptop cams, news reports and vlogs. Normally this would be a jarring experience – and here it is – but at least the simple narrative is kept coherent. The quality of acting is a low point throughout, though I didn't have as much of an issue with this as most reviewers (although the guy playing Josh off screen is notably cringeworthy and a creep from first breath making me question the intelligence of anyone sucked in my his shite), and I was more accepting of the obvious low budget and attempts at authenticity. Certainly many of the recent batch of viewers have inexplicably been convinced of the film being a true story, or even going as far as somehow believing the final 15 minutes or so to be genuine crime footage retrieved by the FBI. Sometimes I despair at the youth of today, dagnamit.
The film doesn't try to make us feel any sympathy for Megan – some for Amy – and maybe it's the generational gap, but their behaviour, their dialogue, it's all grating and off-putting, and the same is true for the surrounding cast. More than that, it seems to revel with salacious glee of it's detailed descriptions (and thankfully less detailed depictions) of pre-teen sex. It's a catalogue of annoyances before we get to any real pay-off for the horror fan – the infamous final scenes.
Those scenes have of course been hyped far beyond what they are deserving of, and have spun off already into a multitude of memes. I can only hope that those genuinely shocked by, or claiming to have been traumatised by these images subsequently move on to some good horror movies. What is there that is so shocking? We get a couple of photos of torture, which I can only assume are shocking due to the suddenness of their appearance, and there is a muffled yet exploitative rape scene towards the end which reviewers have highlighted as offering zero merit – admittedly it's tough to portray such things with any true merit or purpose. We get the final split second reveal of what happened to Megan, followed by an excessively drawn out scene which was done with far greater potency decades earlier in The Vanishing. It's far too little, and far too late, and having to sit through a lot of padding and a lot of inane conversations with general unlikeable people to get to this point, I'd have at least wanted a stampede of zombie dinosaur sharks to liven the thing up. 
Is it worth the hype? Of course not. Is it worth watching? Not really. There are better examples of similar plots and the technical ability on show is extremely limited. The filmmakers will defend this by pointing to the low budget and the fact that it is supposed to be a compilation of unprofessional bits – that's all well and good, but it doesn't make the end product any more worthy or worthwhile. Honestly, there are a tonne of more potent, more powerful, more emotionally devastating documentaries out there made with genuine craft and artistry which make this look like the half-assed mess that it is. Did I enjoy it? Unusually, I didn't hate it. I have a low bar of expectation for this sort of thing anyway and it's clearly not good, but if I'm honest it did set me loose on the internet for a few weeks binge on real life cases of abduction and missing persons. I'm not convinced that the reasoning behind the film was to highlight to impressionable kids the dangers of online interaction, if it smacks of 'old man is scared of new technology/young people', or if it was a cheap and cynical cash-in on real life tragedy at the boom of the found footage phenomenon. If there's any positive from it all, it's that you can easily watch it for free online – seriously, if you have to see it, don't pay for it. 
To sum it all up – if you're curious about the hype, by all means watch it. If you're a seasoned horror fan you will absolutely be disappointed and confused by such hype. There are better things to do with your time, and better movies to watch. Let us know in the comments what you thought of Megan Is Missing!